First, they took Berlin (then they'll take Manhattan?)
---
Datum: 2011-08-19 11:19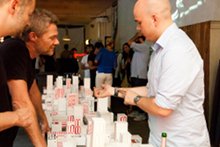 On Thurs­day the 7th of July, I went to Voo Store in Berlin's Kreuzberg in order to attend the glob­al launch par­ty for Swedish watch mak­er Mute­watch​'s first watch — the min­i­mal­is­tic watch with a silent alarm.
Between Beau­ti­ful Swim­mers' dis­co and Matt Lam­bert​'s live video instal­la­tions we got to try on the new watch and test how you by the clas­sic ​"iPhone-move­ments" set the watch's alarm and count­down. To me, it felt slight­ly unac­cus­tomed­ly to begin with, since Mute­watch lacks but­tons and dial completely.
Of course, I grabbed the oppor­tu­ni­ty to have a chat with the peo­ple of Mutewatch.
Gustaf Ham­mar­gren told me enthu­si­as­ti­cal­ly that the built-in gyro­scope sens­es the move­ment if you twist your wrist quick­ly (as if to see what time it is) and con­se­quent­ly lights up the dig­i­tal dis­play, so that the dig­its are vis­i­ble. Mai-Li Ham­mar­gren said that the key to con­tract­ing such exquis­ite retail­ers is their trav­els around the world to vis­it each and every­one in per­son. Livia Moore and I dis­cussed the ben­e­fits of imag­i­nary load­ing bays in order to har­bour a large inflow of con­tacts, infor­ma­tion and ideas on an aver­age day. Also, I agreed with Fredrik Lundin on me writ­ing some addi­tion­al posts on time man­age­ment for Mutewatch's excel­lent blog Timetank.
A week after the launch, the first watch­es were sold exclu­sive­ly in Colette in Paris. Rumour has it that none less than fash­ion icon Karl Lager­feld picked up three watch­es in char­coal grey.
This autumn, you can order the Mute­watch through us at Stiern­holm Consulting.

Here is some pic­tures from the launch party.

And, here a short video.