Befriend your calendar (essay in DN)
---
Datum: 2011-10-29 21:25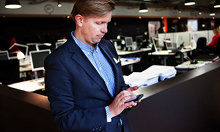 Last week, our David Stiernholm was profiled in Sweden's largest daily newspaper, Dagens Nyheter. The topic was calendars and David shared his best tips in the essay that we have translated for you below.
"Befriend your calendar
Have you also checked boxes only to later wonder where the booking went? Do you think planning takes too much time? David Stiernholm, an expert on structure, reveals his best tips on planning: A calendar is not a to-do-list.
It's Sunday and most people are mounting energy for the workweek to come. Out come the calendars, and more frequently those in a digital format, synchronized with both the phone and the computer. But how do you organize things so that life doesn't feel controlled and over-administrated? Use the calendar for its original purpose; to write down and keep track of things which need to occur at a certain date, at a particular time, says David Stiernholm, and he continues: – Too many people use the calendar as a to-do-list or a place where they write reminders and notes, he says.
The calendar is supposed to be an aid, a place where all the meetings of the week are noted. A few moments with the calendar in hand each morning should provide you with an overview of the workday awaiting you, when you are meeting who and where you are supposed to be. – But you shouldn't be tempted to write down something you are intending to do on a particular day in the calendar, unless it is due on that very day, says David Stiernholm.
Why not? – Because you will probably make an incorrect guess, and then you will have to sit and move the tasks from one day to another. And if you forget to transfer them to the next week in the calendar, you risk unintentionally forgetting and neglecting them since they are now out of your sight.
In order to use the calendar in the best way possible, it needs a companion.
According to David Stiernholm, the to-do-list is somewhat the calendar's best friend. The to-do-list is the place where all tasks not attached to a certain date or time should be kept. And just as the choice of format for the task-list stands between the computer and using a pen and paper, the same goes for the calendar. David Stiernholm's recommendation is definite: Use a digital calendar! It has so many advantages. If you work in an organization where you need to schedule meetings with colleagues, the process runs much smoother thanks to the features which handles scheduling. There is almost always a backup to a digital calendar, and it is accessible from both the computer and the cell-phone.
But what if you are uncomfortable or uncertain of the technical details? – Then you start using it in small steps. Almost always, the opportunities are plentiful. To use different colors, to categorize appointments and so on. On the other hand, the risk with having a digital calendar is that you make it too complicated and complex, he says and continues: - Don't use all its options and features right away, only enter the exact same entries as you did before, in your physical calendar. You can start using different colors later on, once you have determined what they are suppose to signify and how they can help making you more efficient.
Keeping a digital calendar on your computer for anything work-related, and having one on paper for private matters, could this work if you don't want to completely let go of the pen-and-paper-format? – It might, but I think a paper-calendar should only be an option for those who have the possibility to keep all their appointments in it. But you should never forget that you are only one person, who can only be in one place at a time. When we look in the calendar to see when we are available for a potential meeting, we need to get a complete overview, regardless of what roles we have at certain points in time.
Interview by Anders Thoresson / photo by Nicklas Thegerström"
See the original essay from the paper edition here (in Swedish).