Podcast: Done! No. 576 - Ask the AI first
---
Datum: 2023-11-20 08:45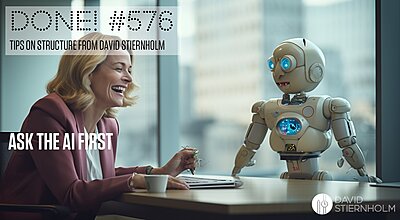 Now, more than in a long time, you can avoid the time-con­sum­ing triv­i­al­i­ties of work.
This week's episode of Done! — No. 576 — is about a ques­tion you can ask your­self often to make the most of the cur­rent AI development.
What do you use AI for most right now? Tell me! I want to find more things I can use this fas­ci­nat­ing tech­nol­o­gy for, so I wel­come your experiences.
---
Did you know that If you involve some­one else in your dead­line, that might help you meet the dead­line more eas­i­ly? Here's how.
---
Do you get my weekly email?
Done! is also available as a free newsletter to your email, if you prefer to read rather than listen (or both!).